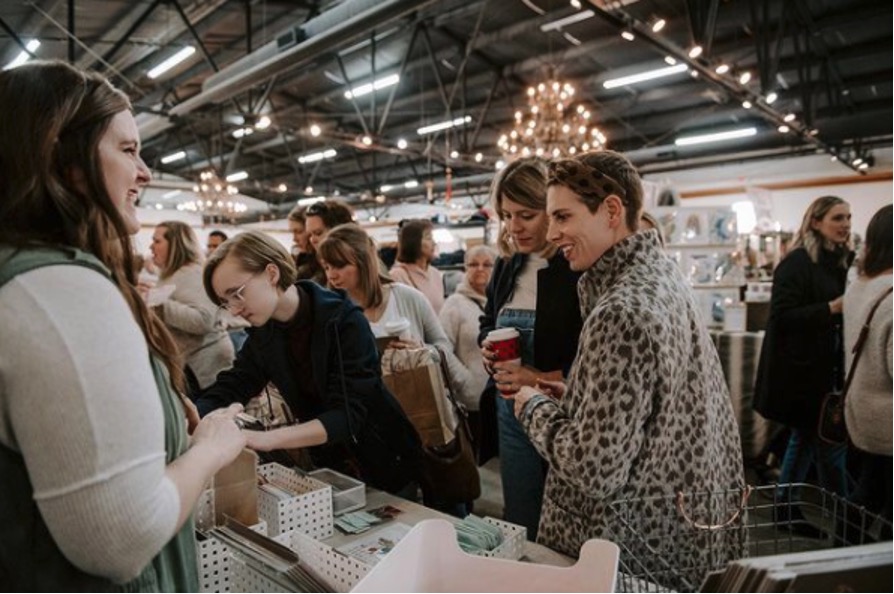 With this year bringing back many beloved community events in full swing, we're looking forward to seeing local and small businesses return to doing what they do best at some of our favorite markets and gatherings.
Alongside the return of in-person events, the steady rise of ecommerce over the past year is also notable for small businesses. This, of course, can mean even more opportunities to connect with customers in real life and online!
When it comes to being a maker and small business, it's important to not only consider the time and care that you already put into the creation of your products, but to also think about what you can do to make your business and services stand out.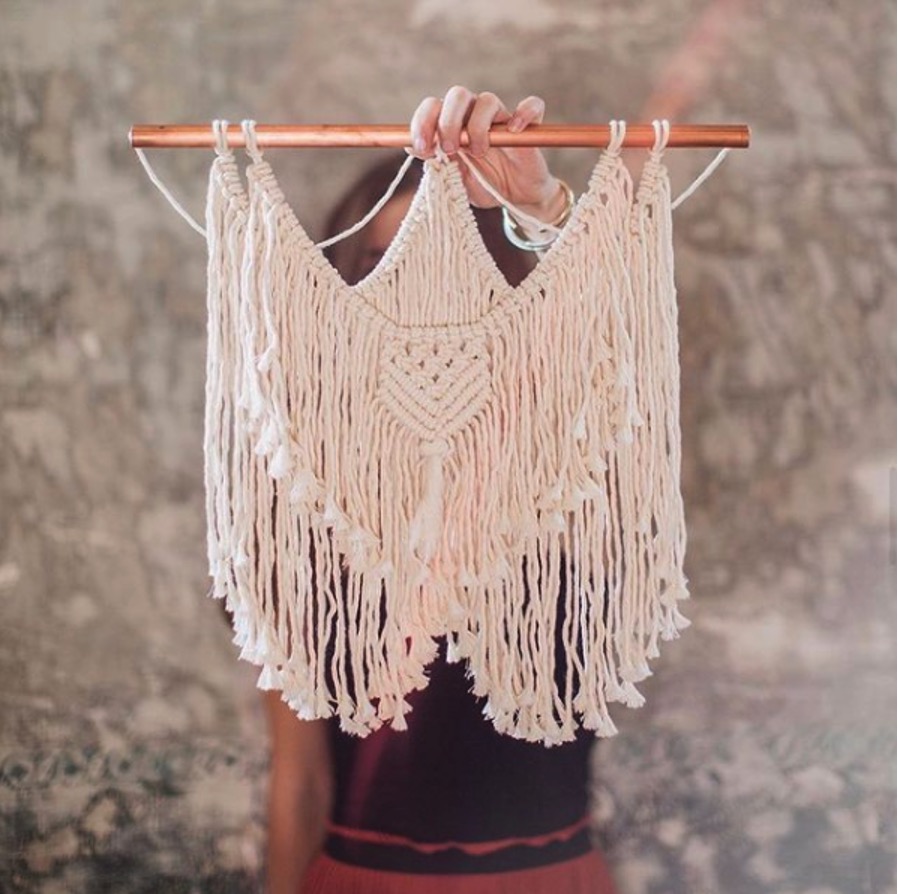 Understandably, it can sometimes feel a bit overwhelming to be the maker you are and juggle the other sides of your handmade business on top of it all. How your product is displayed at your booth, your branding and packaging, and building a loyal community are all important considerations to remember.
But don't sweat it! noissue is here to help you navigate through these aspects and level up your handmade business, so that you can keep on shining through your craft and reach your customers, while doing good for the earth.
In this post, we'll be walking you through six steps you can take to elevate your business even further, without breaking your bank, your time or the planet.
1. Cultivate a welcoming space with customers and other vendors.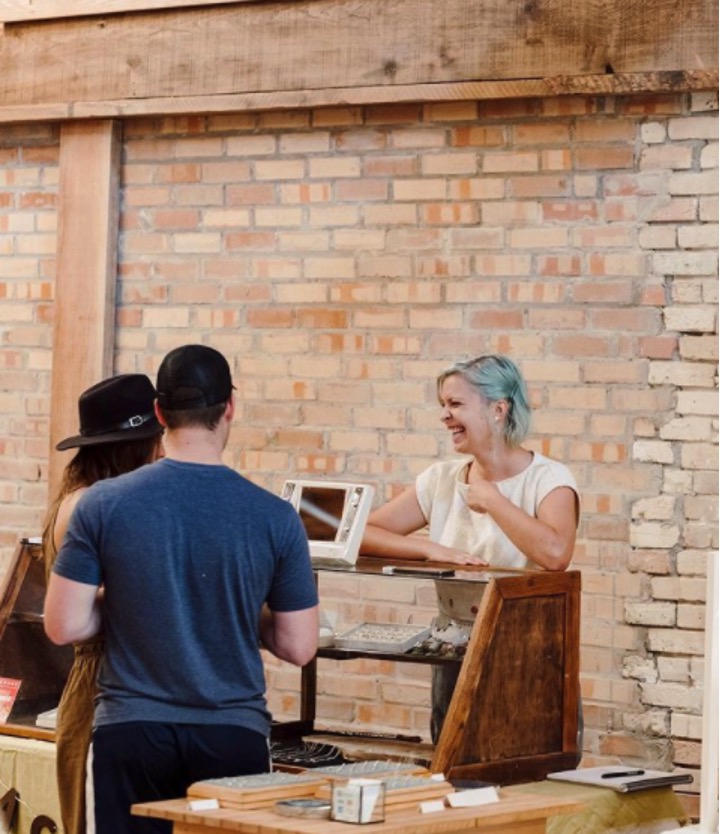 This might come as a no-brainer, but it's now more important than ever to create a space that is welcoming, warm and safe for your customers and fellow vendors. After some time away from in-person events, everyone is itching to safely go out, enjoy themselves and encourage each other.
Being a good neighbor to surrounding vendors at an event – with a kind hello or even offering a helping hand with booth set ups – will go a long way in fostering a positive environment. Being there for your community in small ways can also allow for some fun opportunities to collaborate together and form a supportive network.
Safety is the most essential thing to remember, so be sure to check your local and national safety guidelines frequently, as well as follow updates from event spaces and organizers to make sure you can help provide a secure experience for everyone.
Be cautious, and observe required best safety practices like social distancing, providing customers hand sanitizer and keeping your space clean. Consider putting up signage encouraging people to wear masks, sanitizing your general area often, and putting markers on the floor to allot people ample space apart.
Do strike up friendly conversation with passersby and the nearby businesses at your event, and consider having small (and sanitary) handouts like stickers or individually-wrapped snacks around for folks to grab for themselves and enjoy. A big, genuine smile is always a favorite freebie.
2. Ensure your branding is on point from packaging to booth set-up.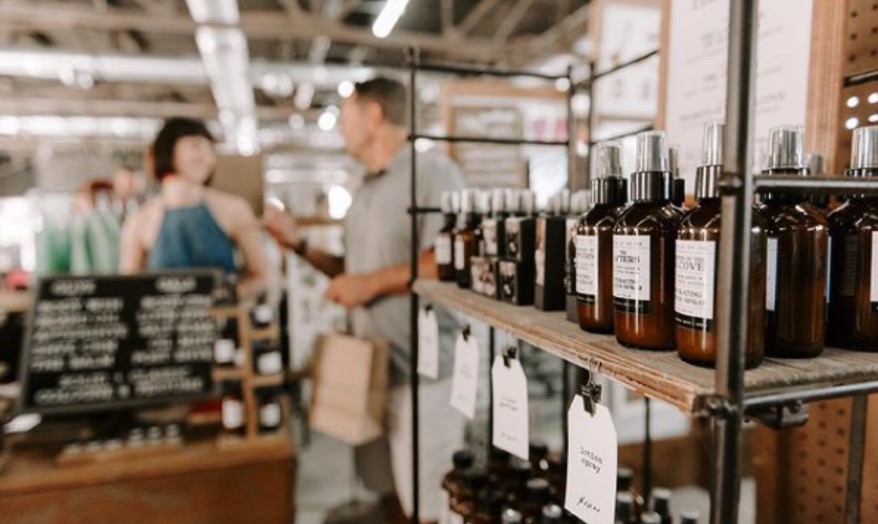 You've put in so much hard work into your products and your time at your event, so don't be afraid to show it all off!
This can take the form of an eye-catching booth set-up unique to your business, and that goes beyond blank walls or tables. Alongside your products, make sure to showcase your brand's logo and visual elements often, so that customers can understand who you are and what you create at a glance.
Some appealing decorations to display at your booth are customized branded stickers (fun giveaways at a market or fun inclusions in your packaging!), tissue paper, tote bags, and more where your branding can be front and center.
3. Make your products stand out with custom packaging.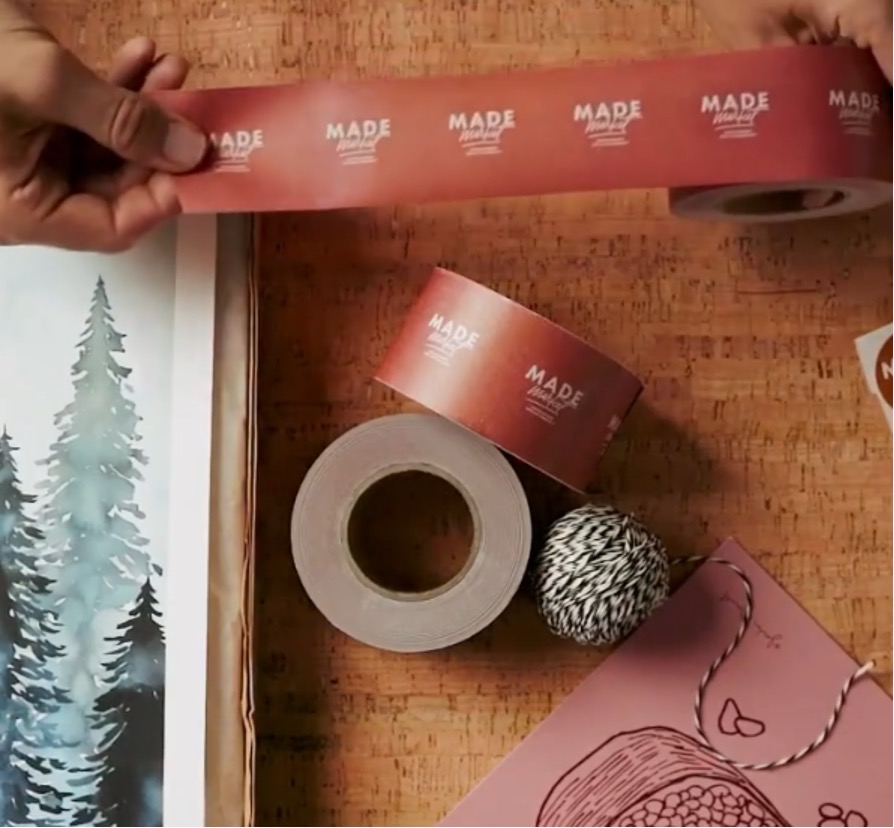 Putting thought into your packaging will bring joy to your customers, and helps ensure your branding is consistent from product to package.
But stand-out packaging doesn't have to be too time consuming, either! Taking your packaging to greater heights can be done through shipping labels, custom tape and stickers.
With noissue, you can customize your packaging with easy-to-use online features, where you can upload your own design or choose from editable templates created by a worldwide creative community.
Adding your brand's logo and fun visual components to your packaging will be sure ways to attract customers, as well as can emphasize your business' style and philosophy with packaging that is compostable, recyclable or reusable.
4. Curate an "unboxing experience" for your customers.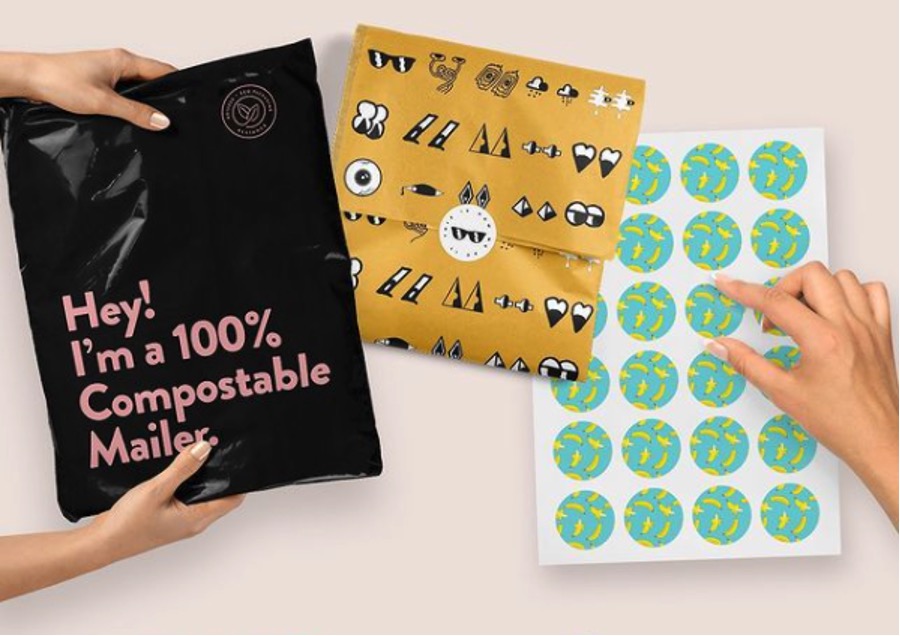 The unboxing experience is one of the most memorable instances where a business can deeply connect with its customers. After all, your customers are your #1 fan!
Don't be afraid to go all out with thoughtful packaging that's also consistent with your branding.
Think of how you feel when opening a gift from a close friend or family. Crafting an exceptional unboxing experience through your product's packaging is another way of continuing your interaction with customers that encounter your booth at events. Imagine a customer's delight when they are able to bring back a well-packaged, personalized gift to later unwrap at home!
You can create a noteworthy unboxing experience by including heartfelt thank you cards and aesthetically pleasing packaging, such as colorful kraft mailers or neatly wrapped custom tissue paper. And bonus points if you use packaging that serves to protect the environment!
5. Promote your sustainability efforts as a cornerstone of your business.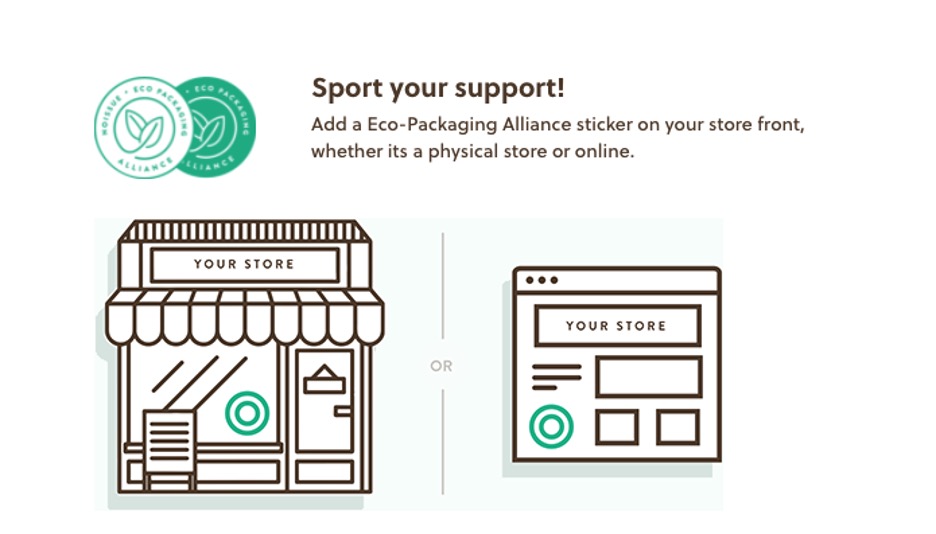 (Joining noissue's Eco-Alliance is a great way to show your customers your efforts toward becoming more sustainable!)
Educate your customers on your sustainability efforts, and make a promise to become more sustainable as your business grows. Proudly show that you're making a difference for people and the planet, and are doing your part as an eco-conscious business!
Through noissue's Eco-Alliance, you can demonstrate to your customers how important sustainability is in every part of your business, from using eco-friendly packaging, to being active within a community that collectively contributes to carbon offsetting and global reforestation.
For every order you make with noissue, we'll plant trees for you in areas of need, and give you access to an Eco-Alliance badge to represent your promise of sustainability.
Your Eco-Alliance badge can appear as part of your packaging design, be displayed as a storefront sticker, and can also be included on your website so that in-person and online customers can clearly see your dedication to becoming more sustainable as a business.
6. Engage with your community by staying active on social media.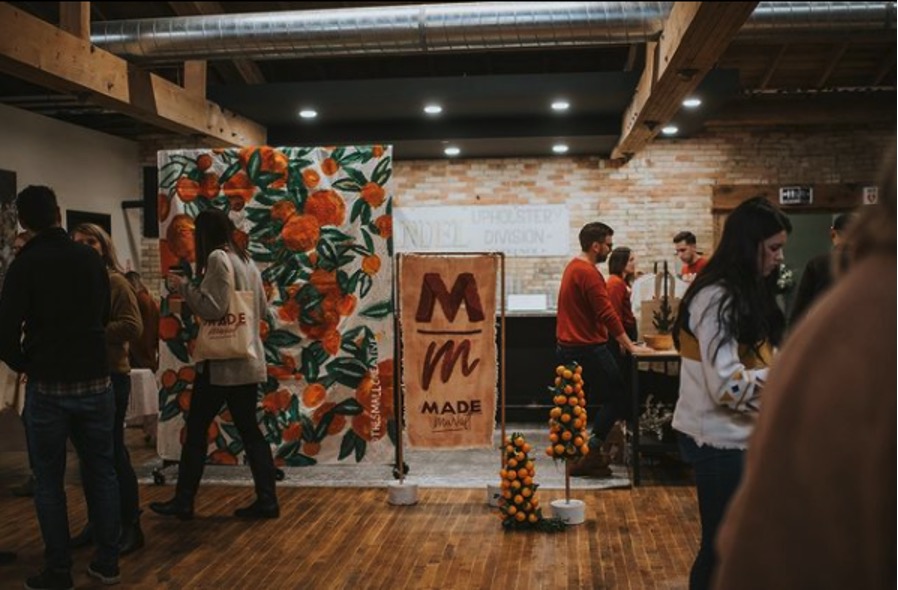 This may go without saying, but continue to pay attention to keeping your social media up-to-date. You want folks and followers to stay engaged and learn about the latest from your business, even after an event ends. Social media is an excellent method of communicating with your customers to let them know more about your business, upcoming events, product recommendations, or for you to hear important feedback.
You want to build loyalty beyond in-person interactions, and having a presence on various social media platforms can also lead to more opportunities for future sales! Whether it's through Instagram, Facebook, Twitter, or TikTok, stick to a schedule of posts that can give a personal look into your business and products.
It's important to keep followers interested and on the lookout for more from your business, so do consider including your customers in your posts by asking questions or hosting polls, responding to direct inquiries, tagging vendors in supportive comments or sending updates on what's coming next.
Staying active on your social media can also be a fun way to stay in touch with your fellow vendors and community members! Be sure to keep the positive vibes up within your network by following local vendors and businesses that also pop up at the same events and markets.
It's the support that counts and builds an all around awesome community that includes your business, other makers and loyal customers.
7. Wrapping it up
So there you have it – leveling up your handmade business doesn't have to be a huge time suck, expensive or limited in creativity!
Bringing your handmade business up a notch emphasizes your ethos as a maker, from your booth display and packaging, to your social media and more. Championing a positive environment can also be as effortless as sending a wave and warm welcome to customers and vendors alike, whether in person or online.
Give it your best shot when it comes to your branding and provide a stand out experience with custom designs for your business's packaging, which can be made a breeze with noissue!
Curious what events might be around your corner? Head to the noissue Events Hub, where you can stay up to date with upcoming events like makers markets and virtual happenings or browse for inspiration.
Want to get started with your own custom packaging? noissue is your one-stop shop for eco-friendly stickers, tape, stamps, mailers and more. Stay in the loop with us on Instagram, Facebook and TikTok, and tag us in your amazing packaging designs!
*This post is a guest submission by our friends at noissue.co. We are exceptionally grateful for their partnership in supporting the maker community worldwide!